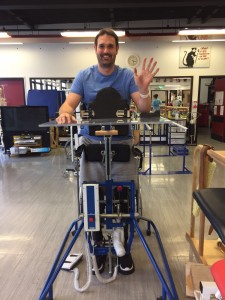 The Living By Giving Trust are proud to announce our latest appeal – for Kris Aves. Kris is a police officer who suffered life changing injuries in the recent terror attack at Westminster.

Kris was severely injured by the vehicle driven by the terrorist. He is now paralysed from the chest down and expected to be in a wheelchair for the rest of his life.
We have put together a team including many of Kris' friends and local community members to raise funds for Kris and his family. The aim of the group is to offer some form of financial assistance to enable Kris and his family to deal with this life changing transition in the best way possible.
Kris has a wife and two young children. Their home is in Barnet, although Kris himself has not been able to return home yet. BBC's 'DIY SOS' has taken up the task of renovating the house – this is happening in October 2017 and several fundraising events are scheduled including a golf day and white collar boxing night. They still need plenty of assistance – and we hope to go some way to offering this with your help.
More news to follow here shortly…
http://www.times-series.co.uk/news/15182496.Barnet_PC_suffered__significant__injuries_in_Westminster_terror_attack/
Wembley Box Winner
Stephen Harris has won the Wembley box for the Tottenham vs Huddersfield game on Sat 3rd March. Hope you enjoy the day out – and thank you to everyone supporting the fundraiser.